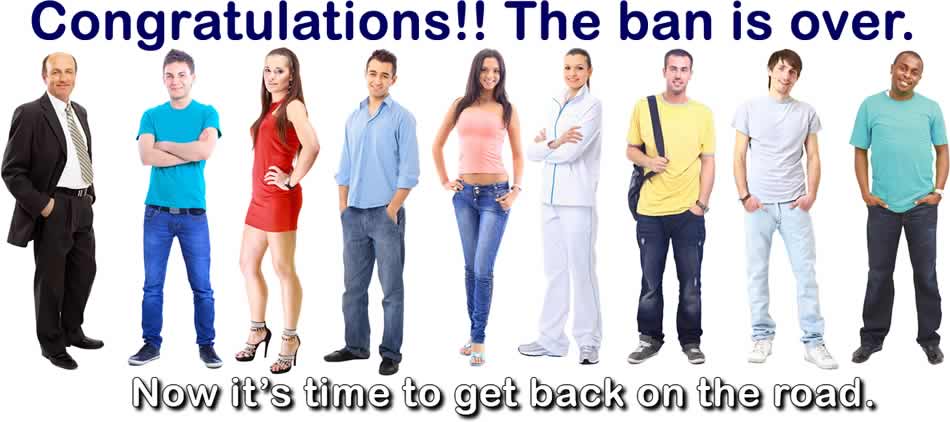 Click here for insurance quotes now!
Quotes are provided by Seopa Limited who are Authorised and Regulated by the Financial Conduct Authority No. 313860.
First, you must get your licence back.
Your driving ban is over and you wouldn't be human if you didn't want to jump straight into your car and start driving again. There are a number of formalities to go through yet though, and it's particularly important that you follow them all to the letter because your local police officers will have been informed of your ban and they will have been looking out for you. You may well find, in fact, that when you first start driving you get pulled in and asked to prove that you are entitled to drive again, if the information that your ban is now completed hasn't filtered through. The first thing that you need to do now is to apply for your driving licence to be returned to you.

Provided that you are not on the High Risk Offenders (HRO) list (more about this later) you should have received an application form for the renewal of your driving licence 56 days ago. If you haven't received it you need to go down to your local GPO for a form D1, Application for a Driving Licence. Once you have sent the file then it should take about three weeks for your license to arrive; however you can still drive once the ban has expired and the completed application has reached the DVLA, provided that you had held a UK driving licence which was issued after 1 January 1976, you have complied with any special conditions, and you had not been been refused a licence for medical reasons or failing to attend a medical assessment.

It is vital to remember that although you can re-apply for your licence up to 56 days before the date when your ban expires you cannot drive again until after that date, even if you receive your licence before then.
If you are not on the high-risk offenders list you can skip the paragraph below, and go straight onto applying for insurance. Otherwise, please continue…
If you were disqualified for drink-driving and are in the high risk category the process is somewhat more complicated, and you may not even have been informed by the court that you were in this category anyway. The easy way to find out is to ask yourself the following questions:

Was your blood alcohol level 200 mg/L or more?
Did the breath test show 87.5 µg/L or more?
Did you fail, or refuse, to provide a breath or blood sample?
Have you been disqualified more than once for drink-driving during the last 10 years?

If you answered yes to any of the above, you are almost certainly listed in the high-risk category. In this case you should have received an application form approximately 90 days before the ban was due to end; if you have not received this you again need to fill in the form D1. You will now have to pass a medical examination before your licence can be reissued, and you will be responsible for all the costs for this, which will include the doctors fees and the DVLA charges. You will need to fill in a questionnaire about your drinking habits, the doctor will wish to give you a thorough examination and you will need to provide blood and alcohol samples for testing. You will only be able to get your licence back if the doctor is satisfied that you do not have a continuing drink problem.
You may have already been on a drink-driving rehabilitation course, but this will not affect the need for you to have a medical examination.
Copyright banneddriversinsurance.co.uk 2017 All Rights Reserved
Home
Privacy
Terms and Conditions
Contact Us
This site is maintained by Cyril Barnsley Associates of Europa Business Park Birhall Lane Stockport Cheshire SK3 0XA who have a partnership agreement with Prudent Plus Limited. . Prudent Plus Ltd is an introducer appointed representative of Seopa Ltd, of Blackstaff Studios, 8-10 Amelia Street, Belfast, BT2 7GS which is Authorised and Regulated by the Financial Conduct Authority number 313860. These facts can be checked by visiting the FCA website.
Please note that we do not give insurance advice on this website. You are advised to seek professional advice before entering into any financial agreements.
Opening hours: Monday-Friday 9.00am to 5.30pm; Saturday 8.30am to 12.30pm; closed Sundays.